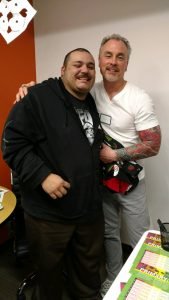 In over 20 years of non-profit work, and 10 years in business management (learn more on his LinkedIn page), Rick has earned a wealth of life experiences and titles including: Father, Mentor, Consultant, and Community Advocate.
In the fall of 2010, Rick experienced the cry to a new adventure. Glass Hearts was founded to be a non-profit that provides a safe place for young dads who live within the growing gaps within our society.
Rick's childhood and early adult years left many wounds. The rebirthing of Rick's heart has turned these wounds into "scars of redemption"; which has softened and impassioned his heart for the broken young dads within our city, and the Denver Metro area. His desire is to walk alongside wounded and hungry young men; helping them to experience the restoration that empowers them to new life!
Rick has three sons.
Joining Rick in leading Glass Hearts is our board chair, Andy Garner.