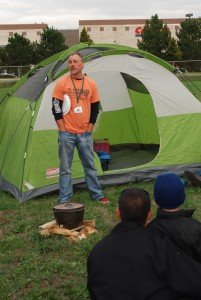 Often times persistence pays off, and in this case with Head Start it did! We are thrilled to have a relationship that offers some assistance on the financial side and solidifies our role within their community. I will be contracted to work 10 hours per week to start the process of building the fatherhood program. Working with Sue, Brandi, Gayle, and the entire leadership team at Head Start has been amazing!
We have our first fatherhood event this month. The Flyer is on the right or go to glasshearts.org/HeadStart.
We have some needs for volunteers for the event and some financial assistance to purchase some raffle camping items for dads and their kids. Please contact rick@glasshearts.org for further information.
(Picture from September 2014 Campout)